While it has competitors, Google is the biggest search engine worldwide, by far. For your website to bring in traffic that generates leads and sales, you must stay on top of current Google search stats and trends that give valuable insights. In this article, explore 30 Google search statistics to help you do just that.
General Google Search Statistics
Larry Page, the co-founder of Google, said that Google has "revolutionized the way we access information and has made the world a smaller place in the process." To get a better grasp of how huge Google has become and the impact it has on an average person, read through these general Google search stats.
1. Google is the most visited website
In a single month (April 2023), Google was visited87.3 billiontimes. It is ranked as the most visited website both in the U.S. and worldwide. Otherwise, the top visited websites on the internet are dominated by social media giants. YouTube ranks second as the most visited website, which is closely followed by Facebook and then Twitter.
Google's search popularity goes beyond its capabilities as a search engine. Aside from online searches, Google is also popular for other services, like Google Ads, Gmail, and the Google Workspace productivity suite. In fact, Google is also thenumber one video platformin the world, followed by Facebook.
2. Over 92% of all search volume globally is from Google
An impressive92.63% of all searches globallyhappen on Google, making it the dominant search engine by far (April 2023 data). The next biggest search engine is Bing, at 2.79%, followed by Yandex, at 1.63%. No matter who your target market is, where they are located, or what your business offers, optimizing for Google search should be a priority in your online marketing strategy.
In mobile searches, Google is often farther ahead in traffic. Nevertheless, developing a ranking strategy that works for both Google and Bing can benefit your business if your audience can also be found on Bing. For example,Bing Places for Businessproduces a lot of local search-generated traffic, especially among business users and more highly affluent and educated audiences.
3. There are at least 8.5 billion Google searches per day
Wondering how many Google searches happen every second? Google runs around99,000 search queries per second, which adds up to a whopping 8.5 billion searches per day on Google. Moreover, the average person searches Google three or four times per day. These Google search statistics show small businesses how much web traffic potential there is in this space.
4. The Google Index has 40-60 billion active web pages
Google has by far the largest collection of indexed web pages on the internet, ranging from40 to 60 billion web pagesin March 2023. However, this pales in comparison to the total Google Search index, which contains hundreds of billions of web pages, millions of books from major libraries, data from public sources, and even travel times from transit agencies. It's over100 billion gigabytesin size.
The massiveness of Google, although overwhelming, provides a powerful avenue for marketing. Its most significant advantage for businesses is the massive potential traffic you can gain by building a website that provides a good user experience and follows Google's best practices forsearch engine marketing (SEM).
Stats About Searches on Google
The first rule of real estate is location, and the same is true for Google searches, where "location" refers to your website's placement in search engine results pages (SERPs). The higher-located your website's content is, the more traffic (and thus leads and sales) it can produce. The Google search statistics below show the importance of following the best practices forranking higher on Googlein order for your website to get found in online searches.
5. Users click Google's first result 39.6% of the time
In 2022, the top-ranking organic search result on Google garners39.6% of all clicks. This is up significantly from 2020, when the top results had anaverage clickthrough rate of 28.5%.
The second organic listing receives 18.4% of clicks, and the third listing gets just over 10%. Google Ads displayed in SERPs also see more clicks on the top-placed ad, at 2.1% compared to 1.6% for the second ad, 1.4% for the third ad, and just 1.2% for the ad in the fourth position.
6. Google's total search volume grows 10-15% a year
Before Google became the search engine giant it is today, it served 10,000 search queries a day in its first year of release in 1998. This is equivalent to the number of Google search queries per second in 2006. The following year, this grew to 3.5 million search queries daily. The year after, it increased fivefold to 18 million searches worldwide.
The search volume growth rate started to slow starting in 2010. However, a10% to 15% increase in total search volumeis substantial next to a search engine that handles trillions of searches per year.
7. The average time for a first click is 14.6 seconds
A new user behavior study by Backlinko showed how people interact with Google. A key finding was that the average time it takes a Google search user to click something is14.6 seconds. They also found that half of the studied Google users clicked on a result within nine seconds of searching.
尽管谷歌用户本能地点击结果found on the top rankings, user behavior may also change because of the significantly varying results page layout depending on the query, such as displaying images or videos vs website links. This makes it critical for marketers to be familiar with the SERP layout for their keywords to use to their advantage.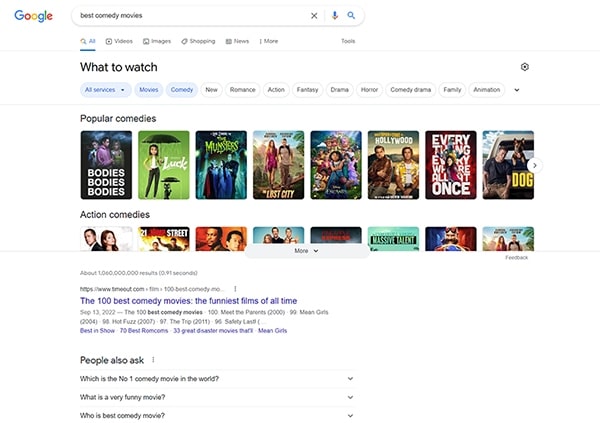 ---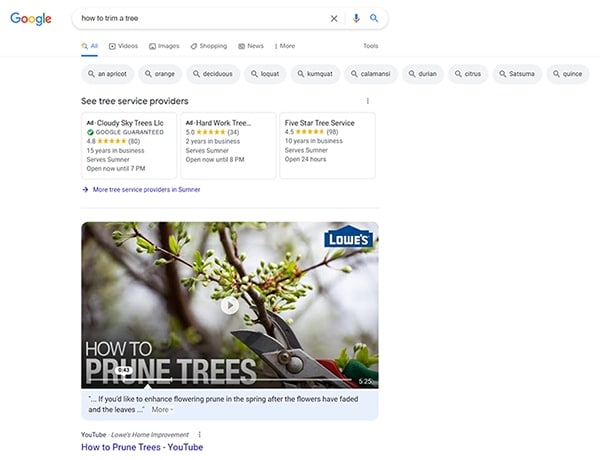 ---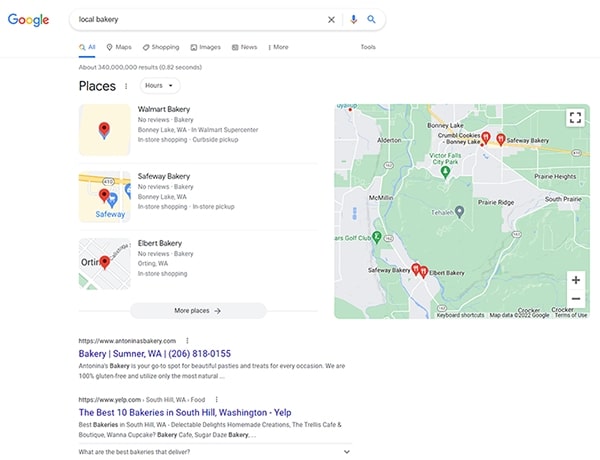 ---
8. 65% of searchers click on organic results
In Google search results, there is an ever-increasing number of features like snippets, video carousels, image packs, and more. However, most searchers still click on at least one of the 10 blue links on the first page of Google search results. Backlinko revealed that65% of people clickon organic results, and 10% even click on multiple organic links.
9. Google search queries are usually three words long
The results of a study on Google showed that 37.2% of the time, Google search queries arethree words long. The next highest, two-word queries, comprise 26.7% of all studied search queries.
It was found that both long-word (seven to 10) and one-word queries are quite rare. The length of these queries suggests that searchers usually frame their queries in the form of a question like "how to bake." Take note of this trend when searching for keywords you want to rank for.
10. Almost 54% of searches include a brand name
In an analysis of more than 350,000 search queries in 2020, nearly54%的搜索include a noun (usually brand names). The most common brand names are found to be associated with the IT industry, like Windows, Android, or Mac.
11. 32.5% of Google Lens results are matched based on page title keywords
A picture may be worth 1,000 words, but using relevant keywords on the page is critical. Google image search stats published by Backlinko found that nearly one-third of images displayed in Google Lens search resultshad a relevant keyword in the page's title tag. You should also add relevant keywords to your image's alt-tag, as 11.4% of results also had a matching keyword.
Paid vs Organic Google Search Stats
There is more than one way for your website to rank in Google search results. Its content can rank organically and be displayed in general search results, but you can also use Google Ads to ensure your brand reaches customers who are ready to make a purchase. Keep reading to see how paid and organic Google rankings compare.
12. Paid search is 1% more effective in driving revenue vs organic search
For all of content marketing history, organic search results have been king, with a majority of customers clicking on organic links and ignoring paid ads on Google. However, while organic results drive the most traffic,paid search ads produce 1% more revenue, per Wolfgang Digital. One potential reason for this is the growth in Google Lens image searches and shopping, which ecommerce stores should take note of.
13. Organic traffic is responsible for 53% of all trackable website traffic
Organic search continues to hold steady as the largest digital channel and the leading source of web traffic. Sourcing53% of all trackable website traffic, organic search dominates the digital channels in all industries.
14. Nearly 91% of websites have zero organic traffic from Google
According to a study of over a billion pages,90.63% of web pages have no organic trafficat all from Google searches. The researchers also stated that the billion-page sample was representative of the higher-quality pages on the web, and avoided the bloat of terrible pages among the 297 billion pages present in their index.
Some reasons for failing to rank on Google include notgetting backlinks from high authority sitesor the topic (and its keywords) not having search traffic potential. Other causes come down to the page not matching user search intent for keywords, not being indexed at all, or page content that doesn't use location-based references (whenoptimizing for local SEO).
If you feel your website's content should rank higher, check out our list of thebest SEO audit tools. They include platforms that allow you to analyze every aspect of your website, from its content to technical search engine optimization (SEO) factors and more, and most can be used for free.
15. $1 spent on ads displayed on Google Search produces an $8 average ROI
After calculating Google's economic impact, Google economists released its conservative estimate of$8 in profitfor every dollar a business spends on Google Ads. Realistically, various other factors affect a business' return on investment (ROI) whenadvertising on Google, so that the actual profit can be anything within a wide range.
It goes to show that careful investment in search engine optimization and pay-per-click advertising can return a solid profit. Business owners and marketers have the opportunity to utilize Google as a marketing tool toboost brand presenceonline, but a certain level of skill and expertise may be necessary to yield positive results.
16. Moving up a rank on Google can improve your CTR by up to 32.3%
The relative click-through rate (CTR)goes up an average of 32.3%每一个位置的网站在谷歌年代上升earch results. The increase in absolute CTR is at an average of 2.8%. However, the increase in CTR dramatically depends on the position it previously held and the new spot it will take. For example, moving from #2 to #1 can increase the CTR by 74.5%, while #10 to #9 will result in an 11% increase.
Are you using the right keywords on your website to bring in traffic among your target audience? See our list of thebest keyword research toolsto learn how they can help you rank higher on Google to increase web traffic through online search.
Mobile Google Search Statistics
你可能已经被告知,你的网站需要"mobile-friendly," but the truth is, it needs to be omnidevice-friendly. This is the key to getting high rankings in online searches, no matter which device someone is using to find a business like yours. Check out the mobile search stats relative to Google below:
17. 59% of all Google search traffic comes from mobile devices
In 2013, only 27% of Google traffic came from mobile devices. That rate has steadily risen as smartphones have become increasingly prevalent. In fact, in the 1st quarter of 2021, 59% of all organic Google search trafficcame from mobile devices.
基于这些谷歌搜索统计数据、移动devices are a dominant search method. Thus, optimizing your pages for mobile ranking and usability is crucial to your business' success.
18. 91% of all Google Lens search results come from mobile-friendly sites
If customers can search for your business using images, having a mobile-friendly website isn't a nice-to-have—it's an absolute must. Backlinko's Google image search statistics show that90.6% of all Google Lenssearch results were from sites that are mobile device-optimized. For any ecommerce business that wants to drive sales through Google image searches, being omnidevice-friendly and optimized is critical.
19. Mobile users have a higher bounce rate than desktop users
In 2022, thebounce rate for mobile userswas 52.9%.Desktop userswere a bit more patient, with a 44% bounce rate. With these Google search stats in mind, it is clear that it's crucial to knowwhat makes a good websiteto avoid user annoyances, from slow loading to bad formatting, poor navigation, or unoptimized mobile performance.
Read our full list ofwebsite statisticsfor more insights about the impact of user experience (UX) when it comes to the success of your site.
20. Only 17% of websites rank on both desktop & mobile
Data from Google shows that in organic searches, only17% of domains remainin the same ranking between desktop and mobile searches. About 8% of domains drop out of the top 100 altogether, while 88% move up as many as 100 places in the Google rankings. This is just one of several Google search statistics indicating a huge need for companies to optimize sites for all device types, including mobile.
Semrush notes that the discrepancy between URLs moving or dropping out and domains moving or dropping out may be due in part to sites using different URLs for their mobile pages than for their desktop pages. However, even taking that into account, it is still important to watch how your mobile presentation affects your Google rankings.
Business-related Google Search Statistics
Trends in business-related searches on Google offer clues as to what your target audience is looking for today, and might be looking for tomorrow. In addition to visitingGoogle trendsto check on whether your keywords are gaining or losing popularity, read the business search stats below.
21. Number of mobile searches for local businesses grew by over 250%
The number of searches on mobile for local businesses found an over250% increase on Googlefrom 2017 to 2019. The use of the key phrase "near me" in search queries has increased significantly tomore than 1.5 billion, underlining the importance of investing in both local SEO and mobile optimization.
22. Amazon has 2x more product search volume than Google
When it comes to shopping, Google lags behind Amazon significantly. Data published on Insider Intelligence shows that61% of consumers start their product search on Amazon. On the other hand, 49% start on a search engine (Google, Bing, etc.), and 32% begin to look for products on Walmart.com. Here are the sites where consumers start searching for products online:
在google的排名le for product retail is generally less effective than ranking for organic content. People tend to search for general information and product comparisons on Google and then go to sites like Amazon when it's time to buy.
Search statistics indicate you should focus on getting your products to rank on Amazon and your content to rank on Google. Learn more about how to create a search engine optimized(SEO) content marketing planto grow your business.
23. Key phrase 'curbside pickup' searches rose 3,000% in 2020
Customers might not always start product searches on Google, but they are certainly starting local business searches on Google. In addition, micro and macroeconomic factors like the economic downturn or the 2020 pandemic also impact local search statistics on Google. For example, with the onset of the COVID-19 pandemic in 2020, local-based search terms like "curbside pickup" and "along my route"rose by 3,000% and 1,000%, respectively.

This increase in local search terms indicates that customers changed their search habits due to the pandemic to limit their time outside the home. Now, people are used to searching before they go to the trouble of going in person—a behavior that is unlikely to change back quickly.
Make the most of these search statistics by ensuring you rank for the keywords people are likely to use when searching for you locally. To save time and increase your return, look to Hibu, BrightLocal, and other providers on our list of thebest local SEO services.
24. Key phrase 'amazon prime day' searches rose 6,747% in 2022
从5月到2022年6月,亚马逊公关的搜索查询"ime day" took the number one spot for top searches on Google worldwide. Itgrew by 6,747%as searchers scrounged to find online deals on Amazon. As June kicked off, the search query "Wimbledon" also grew massively by 4,351% as the tennis competition took place.
Pro tip:Need answers to what people are searching on Google? Check outGoogle Trendsto find the top search queries based on region, state, or language.
25. 19.4% of the most expensive Google Ad keywords are from the legal industry
The list of the most expensive search keywords on Google for 2022 was dominated by keywords from the legal industry. Representing19.4% of the 5,000-entry list, the Legal industry was margins above the Education industry with 8.7% keywords on the list. Although COVID-19 was a trending and expensive keyword category in 2021, it didn't make the cut in the 2022 list.
Statistics About AI in Google Search
Over the past few years, artificial intelligence (AI) has been transforming businesses in all industries through automation, analysis, data quality, and more. Google is no stranger to the AI market—it's even building its own version, Bard, to compete with Bing's use of AI in online search. We get a clearer understanding of how Google utilizes AI for its systems through the statistics below.
26. 49% of consumers are interested in AI-powered online search
Morning Consult's survey on artificial intelligence found that49% are interested in AI-powered search. This makes up almost half of the surveyed U.S. consumers, showing that it is plausible that a large portion of consumers will look into Google's conversational AI (called Bard). It's important to note that Google is launching Bard as a search feature, but it will not replace Google as a search engine.
27. 99% of visits from Google Search are spam-free thanks to AI
In 2018, Google launched its AI-driven spam prevention system called SpamBrain. The2022 Webspam Report(released April of 2023) highlighted that SpamBrain was able to detect and take down 200x more spam sites from Google Search since its release. This reduced spammy links and user clicks on these sites.
Want to make sure that your website doesn't get flagged by SpamBrain? Check out Google'supdated spam policiesfor 2023.
28. Google removed 115 million fake reviews with AI
Removing fake reviews is part of Google's strategies to combat fake content on Search. This 2023, Google released new information about updated AI models paired with its own advanced automated techniques. With this new system, Google blocked115 million policy-violating reviews—20% more than the prior year.
29. 48% of companies use AI tools to address data quality issues
Google's SpamBrain and reviews detection AI system are just some examples of how Google imbues artificial intelligence into its systems. A survey by O'Reilly found that48% of responding companiesalso used AI tools to ensure data quality in 2020. With the global AI marketpredicted to snowballin the next few years, it's good judgment to learn about using AI tools for small business marketing as early as possible.
30. Google AI Assistant can work with 50,000 smart home devices
Google Assistant is an AI-powered assistant that can perform over a million actions, including accessing Google Search. Although it started with 1,500 possible smart device connections in 2018, this now increased to50,000 smart home devices.
31. 49% of marketers are leveraging AI to improve CX
Our list ofAI marketing statisticsshows that nearly half of all marketers (if not more) are using artificial intelligence to improve customer experience (CX). Once you've attracted site visitors through Google Search, you can lean into AI-optmized content, heatmaps for best placement of calls to action, and AI chatbots to convert more leads and sales.
Frequently Asked Questions (FAQs)
There are several ways to see how many times someone searches for a specific keyword on Google.Google Trendsprovides a ton of information about trending search topics, for example. Likewise,Think With Googleoffers information about search trends, including insights you can use to improve your website. You can also use Semrush'skeyword research toolsto see how many people search for specific words and phrases each month.
---
Google is by far the most popular search engine. It is then followed by Bing (Google's biggest rival) and Baidu, China's largest search engine. Each has unique pros and cons if you choose to advertise on them. Google captures the majority of website traffic on both desktop and mobile. Bing boasts lower cost-per-click (CPC) with better social extensions. Baidu has a wide range of SERP features and dominates the Asian market.
---
The best way to help your websiterank higher on Googleand other search engines is to provide high-quality content on a site that delivers a great user experience. To do this, many businesses adopt anSEO content marketing planthat enables them to publish good content regularly. In addition, they use keywords to make their content more search-friendly and optimize user experience (UX) with fast site loading, interactive elements, and intuitive navigation.
---
Bottom Line
These statistics about Google show that the platform dominates the search engine industry. If you want to get more web traffic among your target audience, follow the guidelines for how to rank higher on Google, including what you need to know forlocal SEO optimization.