A website is a business' virtual location, so measuring its traffic can point indicate success with digital marketing or show the need for improvement. This is true for your competitors' websites as well as your own. Fortunately, several tools can help you check website traffic for free for your site as well as your competitors. We compared dozens of options, then narrowed our list to the best cheap and free tools for small businesses below.
Best Cheap or Free Website Traffic Checkers at a Glance
Website Traffic Checkers

Free Plan

Starting Cost

Check Any Site's Traffic

✓

N/A

Your site only

✓

$99.95*

Any site

✕

$23.52*

Any site

✓

$83*

Your site only in the free plan

✓

$167*

Any site

✓

N/A

Your site only

✕

$55*

Any site

✓

$29

Any site

✕

$99.50

Your site only
*Monthly cost with annual billing, or pay a higher rate month-to-month
Google Analytics: Most Accurate Google Traffic Data Source
Pros
Tons of information available in the entirely free Google Analytics app
Real-time and historical traffic data
Google users can manage up to 100 websites
Connect search console to get keyword traffic metrics for free
Provides site visitor demographics like location, interests, and more
Cons
Can only check traffic of sites you have permission for (i.e., can't check competitors' traffic)
Not totally beginner-friendly, and no dedicated customer support on the free version
Premium Google Analytics 360 is too expensive for small businesses
Google Analytics, aka GA, is Google's free tool enabling website owners to check the most relevant site traffic metrics, including traffic sources, average engagement time, geo-location data, and more. However, GA only provides data for your websites via tracking code you add to your site or search engine optimization (SEO) software. It's best for checking your website traffic and identifying performance indicators for improvement.
---
While most of its features are free to use, Google Analytics only provides you with web traffic metrics. It doesn't offer any actionable suggestions for improvement, which can be especially helpful for beginners. It also doesn't provide any insights about your competitors' data or your SEO. Therefore, if you're looking for a multidisciplinary platform to check website traffic, use Semrush instead, which does it all.
---
Google Analytics (GA) is a free tool that shows accurate traffic data from users interacting with yoursmall business website. It's not meant to be an all-around marketing tool—for example, to get data about keywords driving traffic to your site, you'll need to integrate tools like Search Console. Still, it's one of the best traffic analysis tools for pure, accurate, user-driven data.
You can use Google Analytics to track session duration, bounce rates, the traffic source, where your viewers are coming from, what your audience is interested in, demographics, site visitor behaviors, and more. However, it won't provide data for other websites (websites you can't add tracking code to). For this reason, we recommend pairing it with a free traffic checker like Semrush, which can give you estimates of traffic for competitors' sites.
Google Analytics Pricing & Features Overview
Although it's technically a "freemium" product, its free plan allows up to 10 million hits a month (hits are interactions that send data to Google Analytics). This is more than enough for small to medium-sized businesses. Any more than that, and you'll have to upgrade to Google's extremely expensive Google Analytics 360 at $12,500 per month.
Keep in mind that Google Analytics has a bit of a learning curve, including for setup, and isn't as beginner-friendly as other traffic-checking tools like Semrush or Ubersuggest. You also won't get dedicated customer support in the free version—and because ofGoogle's new policies, you'll need to migrate to Google Data Studio by the summer of 2023.
Regarding how to check website traffic,setting up a GA accountis fairly straightforward. Head to Google Analytics and create a free account. From there, set up data collection from your website by embedding tracking code into your website's header or adding your tracking ID to the appropriate setting in your website's content management system (CMS).
Semrush: Best Free Website Traffic Checker for Ranking on Google

Pros
10 queries per day, including checking traffic of any website URL
14-day free trial for our readers (2x the regular length)
Two years' historical data after base plan (most of any platform)
Semrush Academy for tutorials on all things SEO
All-in-one search engine marketing (SEM) solution
Domain vs domain web traffic reports
Chrome extension (SEO Quake) for instant site and page-level data on any website you visit
Cons
Only 10 requests per day for free
Base paid plan doesn't include historical data, content marketing tools, or Google Data Studio integration
Expensive vs Ubersuggest or Serpstat—but has better data accuracy and many more tools
Semrush是one of the most comprehensivesearch engine marketingplatforms in the industry. If you're looking for a long-term investment for monitoring your site traffic against your competitors' and furthering your SEO marketing and backlinking strategies, use Semrush. Its extensive suite of digital marketing tools makes it a good fit for businesses that rely heavily on website traffic and conversions.
---
Semrush's robust features can overwhelm those who only need basic web traffic tools. To monitor only your own web traffic metrics, use Google Analytics. For small businesses and true beginners, SE Ranking could be easier. Likewise, SE Ranking is a better alternative if you want city or ZIP code-level data. For better SEO insights, try Serpstat.
---
In addition to web traffic, Semrush is an all-in-one search engine optimization (SEO) and marketing tool for ranking higher on Google. Apart from Google itself, analysis shows that Semrush is one of the best site traffic checkers because it consistently providesaccurate search volume data.
Whether it's for SEO, managing listings inonline business directories, social media, or pay-per-click (PPC) campaigns—you can do it all through Semrush. Not only can you get detailed metrics for your own website, but you can also get all the same metrics for any website (unlike Google Analytics or Search Console). This extends beyond traffic into keyword rankings, backlink andwebsite SEO audits, and Google Ads performance.
如何检查的免费网站流量on Semrush for your site and competitors' sites, all you need to do is create a free account. With that, you can make 10 queries per day on the free-forever (but query-limited) plan. To check a website's traffic with Semrush, input the domains you want to check in the box, and click "Compare."
Input up to five URLs to easily view domain vs domain site traffic for competitors' websites compared to yours. For more access, take advantage of the 14-day free trial Semrush has extended to our readers to analyze your website and your competitors' sites more in-depth before subscribing.
Semrush Pricing & Features Overview
With a paid plan, you can set up a dashboard to show the high-level metrics for up to five websites every time you log in. You can also set up traffic reports, keyword and position tracking, website audits, and social media tracking. A $20 add-on gives you access to automated listings management and more.
Here's what you get with Semrush's free and paid plans:
Free plan:Up to 10 queries a day with data for website visits, visit duration, user behavior, user journey, geo-traffic distribution, plus domain vs domain checker for up to five URLs
Pro plan:Track up to five websites and 500 keywords with all of the Free plan's metrics, and use over 20 analytics tools from $99.95 monthly; additional users cost $45 per month
Guru plan:Track up to 15 websites and 1,500 keywords with all of Semrush's metrics, see two years of historical data, use Semrush's SEO content marketing tools, and integrate Google Data Studio from $191.62 monthly; additional users cost $80 per month
Business plan:Track up to 40 websites and 5,000 keywords with all of Semrush's metrics and features, plus Share of Voice metric, API access, and migration capabilities from third-party integrations—from $374.95 monthly; additional users cost $100 per month
Semrush是a must for anyone wanting to rank higher in Google, from tools for keyword research to content optimization, website audits, and backlink building. See why Semrush tops our list of thebest keyword research toolsand our list of thebest SEO audit toolsfor small businesses.
SE Ranking: Best Way to Check Local Web Traffic & Rankings

Pros
看到的地方al web traffic keyword rankings for a specific city or ZIP code locations
Cheap paid plans—customize for the way you want to use it to save money
Check traffic and rankings on Google, Bing, Yahoo, and YouTube
Intuitive interface, and super-beginner-friendly recommendations, tutorials, and insights
Step-by-step marketing plan to follow
Cons
Cheapest plan only updates your traffic rankings weekly
Base plan limits are quite a bit lower than Semrush's—for comparable plans for heavy users, Semrush may be cheaper
SEO content editor requires an add-on
No browser extension, unlike Semrush and Ubersuggest
SE Ranking offers data from multiple platforms, not just Google (unlike Semrush). Plus, you can also dial in on city or ZIP code for the most accurate local keyword traffic and rankings data. SE Ranking is also the most beginner-friendly and technically offers the cheapest paid plan. Site audit recommendations are written for beginners, including a step-by-step marketing plan you can use to grow your web traffic and online brand presence.
---
SE Ranking is one of the cheapest platforms, but heavy users will find that the features they need put plan pricing at about the same (or even more) than Semrush or Ahrefs. Those wanting to check website traffic while surfing the internet will prefer Semrush and its SEO Quake browser extension. If budget is your top concern, Ubersuggest includes more in cheap paid plans feature vs feature.
---
SE Ranking is a relative newcomer compared to platforms like Semrush and Ahrefs, but that doesn't mean it's less sophisticated or full-featured. In addition, everything about SE Ranking makes it the most beginner-friendly, all-in-one platform, from its customizable pricing and plans to the recommendations, tutorials, and marketing plan that are easy to understand and implement, even if you're new to SEO.
But the best reason to check website traffic with SE Ranking is your ability to target data at the city or ZIP code level. You can also toggle on options to include Google Local Pack (map) results and show organic and map results separately.
这是最好的本地网站流量检查er for small businesses. In addition, you can do so in plans starting as low as $23.52, depending on how you customize your plan. However, keep in mind that to get the cheapest pricing, you're limiting your use of the platform and how often your tracked projects will be updated. Still, for beginners or small businesses, this could be more than enough access, especially to start with.
SE Ranking Pricing & Features Overview
It's somewhat challenging to summarize how much it costs to use SE Ranking to check website traffic as you can configure rankings check frequency daily, every three days, or weekly. Likewise, you can pay annually, for 9, 6, or 3 months at a time, or go month to month. The more frequently you want to update tracking and the less you're willing to pay in advance, the higher your cost will be. Costs will also increase whenever you want a higher limit on a feature.
With that in mind, here are the highlights regarding SE Ranking plans:
Free trial:14-day free full-access trial to see if it's right for you
Essential:From $23.52 to $49 per month, depending on rank checking frequency and payment plan; track up to 10 projects with five competitors each, 250 to 750 keywords, site audits, 10 to 20 on-page SEO analysis per month, monitor backlinks, plus get up to 100 reports per day and create custom reports
Pro:From $52.32 to $109 per month, depending on rank checking frequency and payment plan; there is data for unlimited projects, up to 1,750 keywords, three months' historical data, and site audits for up to three users; also get up to 5,000 reports per day, 30 to 40 on-page SEO analysis per month, backlink monitoring, custom reports, white labeling, and a keyword database of up to 17,500
Business:From $114.72 to $239 per month, depending on rank checking frequency and payment plan; you can work on unlimited projects, up to 20,000 keywords, 100 to 500 on-page SEO analyses per month, and site audits for up to 10 users; get up to 10,000 reports per day, 17,500 keywords, and all available historical data, plus custom reports, white labeling, and API integrations
SE Ranking's ability to provide hyper-local web traffic and keyword data sets it apart, making it one of thebest tools for local SEO, especially. Take advantage of the 14-day free trial to see how easy it is to check website traffic on your site and those of your competitors, then customize your plan's features and payment options to save money.
Ahrefs: Best Way to Check Web Traffic on Multiple Platforms

Pros
See traffic for 10 platforms, including Google, Bing, Yahoo, and Amazon Free-forever plan, to check traffic, keywords, backlinks, and SEO for your website
Beginner-friendly and intuitive
All-in-one solution that starts at a cheaper cost than Semrush
Add additional users to any plan for $20 to $50 a month—also less than Semrush
Cons
Can't check competitors' site data on the free version, only your sites
No free trial for paid plans
First paid plan shows cached (not fresh) SERPs (search engine results pages) in results
Costly third-tier plan needed to get more than six months of historical data (costs less with Semrush)
No historical data in free or Lite plan
Less accurate data than Google Analytics or Semrush
Ahrefs is the best free website traffic checker for getting data on-site traffic for multiple search engines (e.g., Bing, Yahoo, Amazon, and others), not just Google. This is especially useful for ecommerce websites looking to rank higher on other platforms. Its intuitive and easy-to-navigate visual interface makes it suitable for digital marketing beginners.
---
Ahrefs isn't the best platform for getting web traffic numbers like impressions or clicks, unlike Google Analytics and Search Console. Moreover, Ahrefs doesn't provide a website vs website comparison—for those features, use Semrush for free instead. If you need local web traffic rankings, SE Ranking should be your go-to option.
---
Like Semrush, Ahrefs is a popular all-in-one tool for SEO and content marketing. It's known for its modern, user-friendly interface and offers a lot of easily digestible content to use the tools and rank higher on Google. In addition, it's the best free website traffic checker for getting data on platforms beyond Google, like Bing, Yahoo, and Amazon. This makes it an excellent tool for ecommerce websites, in particular.
The tools that come in the free version are limited, as is your data. For example, there's no historical data or data from search engines besides Google. Essentially you connect your Google Analytics account, and Ahrefs pulls your data from GA and Search Console from sites you own into your Ahrefs dashboard.
---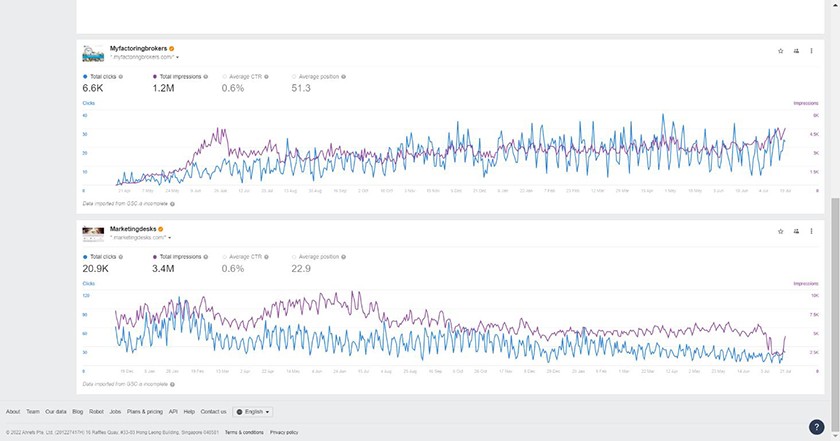 ---
Upgrading to the first paid plan, Lite, extends the amount of data available as well as the tools you can use. With this plan, you can check website traffic and get data on competitors' sites in addition to your own. It also includes a keyword explorer to easily optimize your website, site auditing tools, alerts, and the ability to track your rankings across multiple search engines.
Ahrefs Pricing & Features Overview
To get six months of historical data, you'll need the Standard plan. However, to get up to 2 years of historical data on Ahrefs requires an Advanced plan subscription, which gets pretty pricey at $333 a month with annual billing or $399 month to month. Comparable features with Semrush come with the Guru plan, which costs $229.95 monthly (or $191.62 per month with annual billing).
Here's what you get with Ahrefs' free and paid plans:
Free plan:A Webmaster account to gain insight on backlinks, SEO, and keywords on multiple websites, plus monthly report summaries sent to your account
Lite plan:All of the Free plan's tools plus site audit, dashboard with insights on keywords and backlinks, plus data on other sites starting at $83 monthly
Standard plan:All of Lite's features, plus six months web traffic data, ranking position history, fresh SERPs, and content marketing tools starting at $166 monthly
Advanced plan:All of Lite and Standard's features, plus 2 years web traffic data and Google Data Studio integration starting at $333 monthly
Enterprise plan:All of the above features plus unlimited history, a directory listing for your agency, and the ability to pay manually by invoice starting at $833 monthly
With that said, we love Ahref's interface, especially in the free version. If you're looking to check the traffic for your own website with a particular focus on your backlink data, this is a great place to start. You'll get accurate data since it's connected to your Google Analytics account, tips for using Ahrefs right in the dashboard, and loads of articles on the Ahrefs Academy blog.
SimilarWeb: Best Way to Check Competitor Website Traffic

Pros
Intuitive and easy-to-use for comparing traffic data for free, with data for traffic, engagement, ranking, and demographics
Comprehensive traffic and engagement data
Monitor website your traffic vs your competitors, plus engagement statistics, market share, and user behavior
Cons
Comparable paid plans are more expensive than Semrush
Not as beginner-friendly as Ubersuggest
Exporting data requires a paid plan
No keyword or historical data on the free plan
History limited to 3 months on the first two paid plans—requires enterprise (custom) plan for 12+ months (Semrush offers this in its second tier)
SimilarWeb has one of the most user-friendly interfaces for comparing traffic data between two websites for the most relevant metrics—including traffic engagement, location, and demographics—even on its free plan. This makes it the best tool by far for easy website data comparison and for gauging your site's status against your competitors on various metrics.
---
SimilarWeb's most unique feature against others on this list is its easy-to-use interface for data comparison between websites on basic web traffic metrics. Honing in on specific areas, such as SEO or historical data, will require subscriptions to their paid plans. Therefore, if you want to gain insight into specific fields like backlinks or keyword rankings, platforms like Ahrefs or Semrush are more suited to your needs.
---
SimilarWeb is an in-depth website traffic checker with a free plan to compare web traffic data between websites. In addition to the basic metrics like the number of website visitors, you get a full breakdown of the site's audience and traffic strategy for up to two URLs at a time (five on the paid plan). This makes SimilarWeb one of the most comprehensive tools for checking your competition.
SimilarWeb Pricing & Features Overview
On its free tool, you get to access a site's traffic overview, detailing visits (on both desktop and mobile), engagement, and top traffic sources. You also see which social platforms are directing the most traffic to each URL and a breakdown of its audience. You'll need to upgrade to a premium plan to get more details on social media, ads, and keywords driving traffic to a website.
Here's what you get with SimilarWeb's free and paid plans:
Free plan:Get website vs website data for traffic, engagement, location, demographics, and marketing channels on an intuitive and user-friendly interface
基本计划:Check up to 1,000 keywords, site traffic insights for up to 100 websites, 100 search ads results, and up to 3 months of historical data at $167 monthly
Advanced plan:Check up to 5,000 keywords, get traffic insights for unlimited websites, 500 search ads results, and up to 3 months of historical data at $292 monthly
Custom pricing:Check data for unlimited websites, keywords, and search ads results, plus over 3 years of historical data
SimilarWeb pricing is more expensive than Semrush for comparable plans. For example, with the second paid plan at Semrush, you get historical data. With SimilarWeb, this requires a custom plan that exceeds its most expensive published plan pricing of $292 monthly—which only includes 3 months of historical data.
Plus, unlike other tools on this list, the free version of SimilarWeb focuses exclusively on website traffic. If you're looking for a more well-rounded analytics tool, use Semrush. But if you're only looking to check a site's traffic for free with an easy-to-navigate interface, you'll be hard-pressed to find anything more exhaustive than SimilarWeb.
Google Search Console: Best for Website Traffic Keywords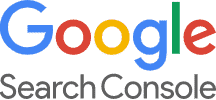 Pros
Accurate and free keyword data for keywords driving your web traffic on Google
Integrates with Google Analytics to provide your data in one interface
Includes a backlink checker tool
Website optimizer identifies issues on your website, such as page and server errors
Cons
Like GA, only provides data from your sites (no competitor website data)
Limited amount of data shown, like top 1,000 backlinks and limited health issues—for more in-depth data, use Semrush's site audit tools
Only tracks Google data—for keyword data from other search engines, try Ahrefs
Google Search Console (GSC) shows which keywords drive traffic to your site in Google searches. It's essential for businesses using content marketing to increase web traffic. Use it to track your site's search traffic and search queries to better calibrate your content and keywords. It's also helpful for troubleshooting your site's health for server errors, loading issues, and more.
---
While GSC shows which keywords drive traffic, it doesn't offer any additional web traffic metrics—you'll need to integrate with Google Analytics to unlock those capabilities. It also doesn't provide features for website comparison or backlink analysis. For a more holistic or in-depth traffic monitoring tool beyond keyword analysis, opt for Semrush or Ahrefs instead.
---
While tools like Semrush, Ahrefs, and SimilarWeb use a variety of ways to get relatively accurate data estimates about web traffic and keyword rankings, they simply can't beat the accuracy of Google's proprietary tools themselves. Google Search Console (GSC) is a must to integrate when you want to know exactly which keywords bring visitors to your website and where your content ranks for your target keywords.
To ensure Google fully indexes your website, generate and提交XML网站地图into GSC. To access even more data, like insights on new and returning site visitors, bounce rates, and the time spent on your website, link Search Console to your Google Analytics account. This way, you can view everything on one interface.
Aside from comprehensive keyword data, GSC also shows backlinks, total impressions, the pages that bring the most traffic to your website, and audience insights. Also, since it only provides data for your websites, it's not a great competitor research tool (unlike SimilarWeb and Semrush).
Serpstat: Best for Competitor Keyword Traffic Analysis

Pros
Full suite of advanced SEO tools, a site traffic checker, plus backlink and content analysis features
View up to three URLs with the domain vs domain feature
Affordable pricing for small businesses
Cons
No free plan, only a 7-day free trial
Not as user-friendly as Ahrefs or SimilarWeb
Semrush has more accurate keyword data
Domain vs domain tool only tracks keywords, not overall traffic data
Serpstat is a multidisciplinary SEO platform for advanced insights on your website's keywords and backlinks, as well as those of your competitors. Its tools and high limits make it well-suited for SEO professionals and digital marketers intent on comprehensive and large-scale SEO marketing strategies and research on competitors.
---
While Serpstat offers comprehensive SEO data, its in-depth insights and advanced interface might not be the best fit for most small business owners. If you're looking for a simple, easy-to-navigate web traffic checker to monitor your basic metrics or overall website functionality, Google Analytics or SimilarWeb are more suitable options.
---
While GSC is great at tracking which keywords your website ranks for, you can't use it to discover which keywords drive traffic to your competitors. That's where Serpstat comes in. With Serpstat, you can track keyword data for up to three website URLs, and it also has an in-depth backlink checker to see which websites are directing traffic to your competitors.
除了这些,Serpstat提供一些最exhaustive SEO analysis features out of any platform, with features for search engine results ranking, historical data, backlink analysis, site surveying, and competitor insight.
Serpstat Pricing & Features Overview
While Serpstat doesn't offer a free plan, its paid plans have comprehensive tools for search optimization. Its plans offer advanced SEO analysis tools providing high volumes of results, from keyword research and rank tracking to pay-per-click (PPC) ads results, backlink analysis, and site auditing, starting at $55 monthly.
Here's what you get with Serpstat's free and paid plans:
Lite plan:Up to 4,000 searches daily, API access for search analytics and backlinks, and tracking rankings for up to 10 sites and 15,000 position checks a month at $55 monthly
Standard plan:Up to 5,000 daily searches, tracking for up to 50 sites, 60,000 position checks a month, and three users at $119 monthly
Advanced plan:Up to 8,000 daily searches, tracking for up to 75 websites, and 150,000 position checks for up to five users at $239 monthly
Enterprise plan:Up to 12,000 daily searches, tracking for up to 100 websites, and 300,000 position checks for up to seven users at $399 monthly
That's not to say that Serpstat can't work as a basic website traffic analysis tool. Simply input a URL in the main search bar, and an overview of the website comes up, complete with visibility, estimated search traffic, and organic and paid keywords. Scroll to the bottom of the "Overview" page, and you'll also find a list of competitors and examples of paid ads for the domain.
Ubersuggest: Website Checker With the Cheapest Paid Plans

Pros
Beginner-friendly, all-in-one SEO solution
Affordable plans from $29 monthly, with a free plan for three daily searches
Simple competitor analysis feature
Integrates with Google Analytics
Chrome extension for SEO data while browsing other websites
Cons
Only three daily queries allowed on the free version
Only one project (website) available on the free plan with 150-page scans
Plan features/limits are all lower than comparable platforms like Semrush and Ahrefs; however, the cost is far lower too
Ubersuggest offers a helpful suite of tools for monitoring your website's traffic, with particular focus on your SEO ranking and keyword research. It also features a clean and easy-to-navigate interface, making it suitable for digital marketing beginners or small business owners looking for a tool to easily track site traffic, effective keywords, and backlinking—all for affordable prices.
---
While Ubersuggest features data for several fields, the data it provides isn't all that comprehensive, especially compared to Serpstat. It also has significantly lower limits on its search results (its starter plan is limited to 150 searches a day, for example), making it unsuitable for comprehensive and large-scale SEO marketing. For similar SEO analysis but with more advanced tools and in-depth results, choose Semrush instead.
---
Ubersuggest is an SEO and website tracking tool with free and paid plans starting at $29 per month. Uniquely, it also allows you to pay a one-time fee equivalent to 10 months of any plan's fee for lifetime access.
You can check web traffic for a URL without signing up, but to get a little more data, you'll have to register. On the free plan, you only get three URL searches per day (vs 10 with Semrush). To see more than that, plus any historical data, you'll have to upgrade to a paid plan.
Ubersuggest很基本,但它给你一个overview of a site's traffic in a beginner-friendly interface. Aside from overall traffic, it breaks down the data into the pages of your site generating the most visits, the social platforms that point to the pages, keywords they rank for, and backlinks. It also rates each of these metrics to easily tell if your site is doing well. Click on any of these, and you'll get a more comprehensive view of the data.
Ubersuggest Pricing & Features Overview
Ubersuggest offers a free plan with three daily website searches. This enables access to its data dashboard and a full range of web traffic insights, allowing users to get a feel for the platform's capabilities before deciding to upgrade to a paid plan.
Its paid plans offer the same features but at higher ranges at more affordable prices than others on this list, ranging from $12 to $40 monthly. This makes Ubersuggest a decent all-around web traffic analysis tool for small businesses starting out with web traffic analysis and digital marketing.
Here's what you get with Ubersuggest's free and paid plans:
Free plan:每天三个网站搜索SEO的见解analysis, web traffic, and backlinking, plus keyword research assistance and website audit features
Individual:Get up to 150 daily searches on one domain, 125 tracked keywords, insights on five competitors, and 1,000 page scans at $29 monthly, or a $290 lifetime fee
Business:Up to 300 daily searches, seven domains, 150 tracked keywords, 10 competitors, and 5,000 page scans at $49 monthly or a $490 lifetime fee
Enterprise:Up to 900 daily searches, 15 domains, 200 tracked keywords, 15 competitors, and 10,000 page scans at $99 monthly or a $990 lifetime fee
Add-ons:For an additional $5 per month, get 500 more daily searches, one more tracked project, 250 more tracked keywords, additional competitor domains, and additional users
This traffic checker also gives a pretty in-depth look into a site's top SEO pages and keywords. Ubersuggest bases the rankings of these pages and keywords on Google, so if you're looking for metrics related to other search engines (like Microsoft Bing), we recommend using Ahrefs instead.
MonsterInsights: Best Way to Check WordPress Website Traffic

Pros
Check website traffic from the WordPress dashboard
Advanced analytics like outbound and affiliate link tracking, file download, telephone, and email tracking
Unlimited page views and users for all plans
14-day money-back guarantee—get a full refund if it doesn't work for you
Cons
MonsterInsights' analytics are sourced from Google Analytics
Plugin only works on WordPress-hosted websites
No free plan or free trial available, and plans are only on an annual—not monthly—basis
MonsterInsights is a WordPress plugin that displays your web traffic data directly in your WordPress dashboard. As such, it's best for those with WordPress websites who want to see all the relevant data and analytics without leaving the WordPress dashboard.
---
Because MonsterInsights is a WordPress plugin, it won't be useful if your website isn't hosted on WordPress. MonsterInsights also primarily provides traffic analytics and link tracking—it doesn't offer capabilities for SEO or website vs website comparison. For those features, platforms such as Semrush or SimilarWeb are more suitable.
---
MonsterInsights is a website traffic checker plugin for WordPress, allowing you to view your web traffic data and insights directly within your WordPress dashboard. As a plugin, MonsterInsights doesn't function as a standalone platform, meaning you'll need a WordPress account and website to access and benefit from its features.
MonsterInsights also sources its standard traffic data (such as your traffic, engagement, and user insights) from Google Analytics. However, it also offers a wide range of advanced insights, such as ecommerce tracking, outbound and affiliate link tracking, tracking for forms, media, telephone, and email links on most of its plans.
MonsterInsights Pricing & Features Overview
While there is no free plan for MonsterInsights, what's included in paid plans is worth it and very affordable. Keep in mind that it will only show your website's data as traffic numbers are sourced through Google Analytics.
Here's what you'll get with MonsterInsights' plans:
Plus plan:In-depth insights for one WordPress website, unlimited page views and users, standard web traffic analytics, historical data, real-time analytics, and URL and media tracking at $99.50 annually
Pro plan:All of the Plus plan's insights for up to five websites, along with advanced analytics, third-party integrations, unlimited page views and users, tracking and reports for ecommerce, form conversions, and keywords, plus user journey data at $199.50 annually
Agency plan:All of MonsterInsights' analytics for up to 25 websites, unlimited page views and users, advanced access control, management for clients' licenses (particularly helpful for agencies), and WordPress support at $399.50 annually
MonsterInsights' features only lack in the SEO and website comparison department, especially compared to the likes of Semrush or Serpstat. It does, however, offer some of the most comprehensive tools for how to check website traffic, which is helpful for measuring and growing any WordPress website.
Key Website Traffic Metrics to Track
"Website traffic" is a broad metric, and raw website traffic numbers don't necessarily tell the tale without additional context. For example, a website may have high traffic, but the traffic may not be relevant for the company's target keywords, providing little benefit. On the other hand, a website with fairly low but highly relevant traffic may generate many highly qualified leads and sales.
Website statisticsreinforce the fact that getting your site to rank on Google is essential, as about 70% of web traffic flows through Google. And with Google, a positive user experience (UX) for site visitors is paramount. This is often reflected in metrics like time on site, the number of pages viewed, and conversions, such as button clicks or web form completions.
Here are some of the website traffic metrics to track relative to your site's performance:
New visitors:The number of first-time visits to your website in a specific time frame.
Returning visitors:If customer retention, repeat sales, and continued patronage are important to your business, increasing the number of sessions per user is essential.
Bounce rate:A "bounce" is when someone visits a page on your site but leaves without taking another action like viewing another page, interacting with something, or filling out a form. A high bounce rate could signal that your site doesn't provide a positive user experience (UX), which can negatively affect your search ranking.
Pages per session:The average number of pages viewed on your website per user session. Increasing pages per session signals that your site is helpful to site visitors. Learn more about how to engage site visitors with anSEO content marketing plan.
Session duration:Web design statisticsshow that the average session duration for websites is just 45 to 54 seconds. Increasing session duration on your site indicates that your content is engaging.
Traffic sources:Whether by device, social platform, search engine, language, or location, traffic sources show how people find your website and which channels you should focus on.
For your website, these metrics can be found using Google Analytics. Plus, Semrush and SimilarWeb also provide these metrics for competitors' sites. You may also be able to identify specific goals for other key performance indicators (KPIs) based on yourwebsite marketinggoals.
How We Evaluated the Best Tools for Checking Website Traffic
When considering how to check website traffic, we looked for the best combinations of cost, data accuracy, and the ability to check traffic on competitor sites as well as your own. We evaluated each of these tools' free and (in most cases) paid plan features firsthand, in addition to the decades of experience our team has using these tools to check website traffic for their own sites.
Our top two recommendations for small businesses are Google Analytics and Semrush. Google Analytics can be used for free, though it's worth noting that users will have to migrate to Google Data Studio as of summer 2023.
Google Analytics is the best and most accurate way to check your website's traffic and offers all the basic metrics you should be tracking and trying to improve. Plus, it can be integrated with Search Console to give you an even more complete picture of the sources, keywords, and channels bringing web traffic to your site. What it can't show you, however, is the traffic of your competitors.
Semrush是the best free website traffic checker for your sites and your competitors' sites overall. The free plan gives you 10 searches per day, including domain vs domain comparisons. You can see sources of Google traffic, keywords, backlinks, and more, giving you the data you need to develop strategies to improve your website's ability to generate leads and sales for your business.
Frequently Asked Questions (FAQs)
Why should I track my competitors' traffic?
Your site's traffic is only half of the picture when it comes to analyzing your site's ability torank higher on Googlethan your competitors. You also need to know how well your competitors' sites are performing and where they're getting traffic from. Comparing this data shows you where they are lacking, opportunities you're missing out on, and what you can do to improve your own website and increase your visitors and views.
How can I check website rankings & traffic without Google Analytics?
很容易检查网站排名和流量with tools like Semrush. It's an accurate and robust free tool that shows data on your competitors' sites—which Google Analytics doesn't do. Another great option to consider is SE Ranking, because it's one of the few tools to provide traffic metrics at the local level, which makes it ideal for small businesses wanting to grow a local customer base.
What is the best free website traffic checker?
For the most complete and accurate data about your website in a free website traffic checker, combine the use of Google Analytics and Search Console. For insights on competitors, we recommend Semrush's free plan to check website traffic and keyword rankings. You can even compare your domain vs competitors to find ways to increase your Google rankings.
Bottom Line
Higher website traffic shows yourdigital brand presenceis growing as your site becomes more visible online. While tracking site traffic is easy, growing it is more complicated. From searching for the right keywords to rank with to generating backlinks, there are various paid and free ways to grow your audience.
Thankfully, all of it is doable with Semrush—a complete SEO solution that not only helps check traffic to a website but helps grow it as well. Use it free forever to check website traffic for your site and competitors with up to 10 queries a day, or take advantage of the 14-day free trial available to Fit Small Business readers to explore more tools and remove daily limits.