Content marketing relies on search engine optimized (SEO) content to generate brand awareness, move prospects through your sales funnel, and convert sales. To create an SEO content marketing plan, define your audience, set goals, and research keywords and competitors. Next, identify content for each stage of the sales funnel, set up a publishing calendar, publish content, and then measure your results and refine your efforts.
1. Define Your Audience
Defining one or more target audiences is an essential, foundational step when you create an SEO content marketing plan. The industries, interests, pain points, and buying behaviors of your target audience(s) will determine what type of content to produce and publish. It will also drive your keyword research efforts, contributing to your content's overall SEO strategy.
One way to define a variety of detailed target audiences is to create customer personas, also known as buyer personas or customer profiles, based on different ideal client types. You can downloadfree customer persona templatesand follow the steps in the article to describe the typical background, demographics, preferences, and needs of your ideal buyer types.
2. Set Measurable Goals for Your SEO Content Marketing Plan
Set specific, measurable goals for what you want to achieve with your content marketing strategy. In turn, these goals will inform your strategy in terms of the types and quantities of content you need to publish to achieve them. To be measurable, make sure each goal specifies the amount of increase or production desired within a set period of time.
Some examples of content marketing goals include:
Increasing web traffic to yoursmall business website
Generating leads through online web form submissions
Increasing sales (online or off)
Upselling or cross-selling
Growing your contact list for email marketing
Improving customer retention and loyalty
Increasing the frequency of returning customers
Growing yourbrand's presenceonline
Improving your domain's authority with Google
Increasing rankings in online search
Gaining backlinks from high-quality sites
Before you can implement content marketing for your small business, you need a search-friendly website. Choose one of thebest website builders for SEO, like Wix. Wix has excellent site and page-level SEO tools and automatically adds markup to help your site rank higher on Google.
3. Research Keywords & Competitors' Content
Keywords, or SEO keywords, are specific words or phrases you plan to target with your content. In other words, when someone searches online using those keywords, you want your website to rank highly in search engine results pages (SERPs) for those terms. This is critical if you want to drive organic traffic to your website, landing pages, YouTube videos, social media pages, and other online marketing content.
There are two general types of SEO keywords, short tail keywords, which are broad, and long tail keywords, which are more specific:
Short tail keywords:General search queries of one or two words (e.g., "content marketing"). These keywords often have very high search volume, but are also widely used online, so they have a high keyword difficulty, making them harder to rank for.
Long tail keywords:May consist of three to five or even more words (e.g., "how to do content marketing for small businesses"). Long tail keywords are usually easier to rank for, but have less search volume per month than their broad (short tail) counterparts.
For thebest way to research keywords, use a tool like Semrush. It will show you the monthly search volume for your target keywords, how difficult they will be to rank for, and which websites rank highest for the keywords. You can also see what the average cost per click is should you decide to deployGoogle advertisingto bolster your SEO content marketing plan.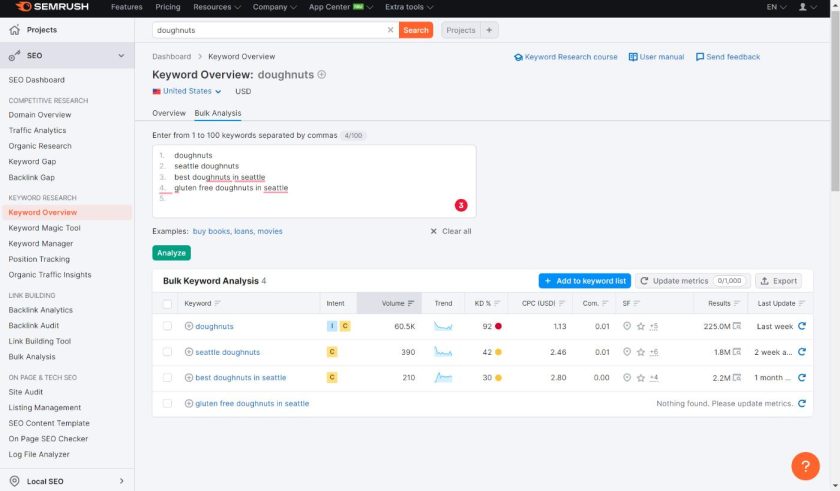 ---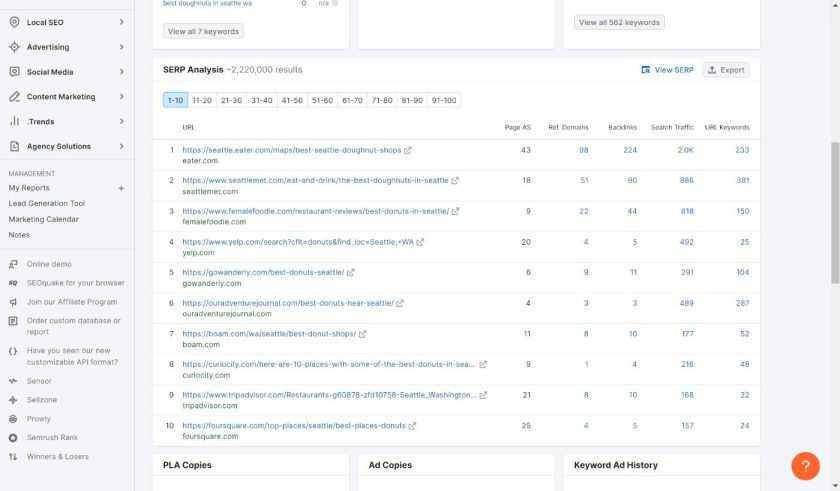 ---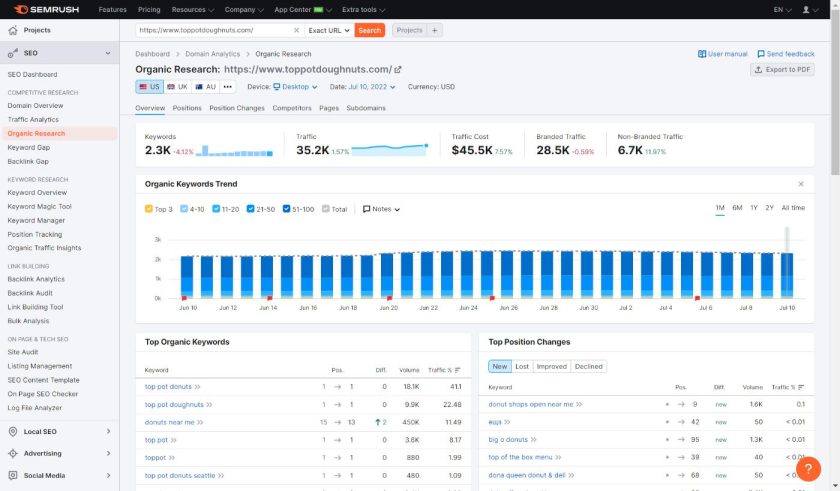 ---
Ideally, you will be able to find keywords to target that have fairly high search volume but low competition. It will be much easier for you to produce content that ranks more quickly andranks higher in GoogleSERPs with high-volume, low-ranking difficulty keywords.
To research your competitors, first make a list of your top five competitors and research their sites. Besides using Semrush for competitor keyword research, you can also analyze content and rankings for your site or your competitors' sites, compare domain vs domain, and even see what kind of paid ads they are running on Google as well.
You should also actually visit each of your top five competitors' websites to see what kind of content they are producing and how often they are publishing new content. Look through their content to see what they are doing that is working to attract web traffic and produce conversions.
Evaluating your competitors' sites will also show you how they are differentiating themselves in online content. In turn, you can refine your SEO content marketing strategy (and your overall business marketing plan) to focus on your business' strengths, points of differentiation, and most compelling value propositions.
4. Plan Content for Every Stage of the Sales Funnel
最好是实现一个内容营销stratocaster电吉他雷竞技appegy that includes creating different content for different stages of the customer journey or buying process, with the goal of helping the prospect move to the next stage, than try to cram everything in all at once. This helps ensure you aren't overwhelming the prospect with information they aren't ready to receive.
While yoursales funnelmay allow for more stages, there are at least three key stages of the buying journey your SEO content marketing plan needs to address: awareness, consideration, and decision. You should create specific content for each of these stages to help move prospects to the next step in the customer journey.
Expand the sections below to learn more about each stage of the content marketing funnel and examples of the types of content you might include in your marketing campaign:
Stage purpose:Content marketing designed for this stage should help build awareness or educate potential leads at a high-level on the brand's mission, products, or services in order to foster interest

Many people who are interested in a general product or service will use a search engine to conduct initial research. For example, a startup company may be looking for free or low-cost customer relationship management (CRM) software to help with lead generation and contact management. They decide to search online for "best free CRMs for startups" and begin exploring the content within the top organic search results.
The content created for this stage should be high-level informative—the goal is to persuade the reader to put the software on their shortlist for further consideration. Continuing with the example above, this would include a general overview of the CRM software and its pricing, features, and benefits.
Examples of content types to produce for this stage of the buying process include:
Informative blog posts
Software product pages
High level comparison (e.g., "at a glance") articles
White papers or e-books
Video explainers
Webinars
Social posts and ads
Infographics
Citable content (e.g., trends or statistics)
Video and audio podcasts
Online publications (e.g., magazines or topic-based medium blogging)
此外,同样重要的是包括公关omotional content as part of your strategy, like advice or tips. For example, to attract the CRM-interested audience, you could write a blog post on "tips for lead generation" or "effective steps for lead nurturing."
Non-promotional articles often bring your target audience to your website before the buying process begins. Writing articles they perceive as purely helpful helps to establish trust so that when they are ready to buy, your brand will be top of mind and your products will be the first they check out.
---
Stage purpose:Content marketing at this stage should provide answers to frequently asked questions to help differentiate a brand from competitors.

Once a prospect has become aware of the products or services available to solve their problem, they will often conduct online research to compare their top options. Content marketing in this stage should answer questions the prospect might have about pricing, features, and benefits.
Your content for the consideration and lead nurturing stage might include:
Video guides and demos
In-depth comparison articles (e.g., side-by-side vs guides)
How-to articles and downloads
Reviews
Landing pages (e.g., to view a demo, schedule a meeting with a sales agent, or take advantage of a free trial)
Google display ads for remarketing
Did you know?
According to aFocusVision study, a business-to-business (B2B) sales process can take two to six weeks and involve four people in the purchasing organization. During that time, buyers consume an average of 13 pieces of content, including two-thirds from the vendor and one-third from outside sources.
---
Stage purpose:Content marketing at this stage should be designed to persuade the lead to make a purchase decision to produce a client or sale
At the decision stage, your reader knows they want or need a product or service they've been researching, and now they're looking for confirmation or justification for their purchase. They may also be looking for content to present to colleagues if someone else needs to sign off on the decision.
Essentially, the prospect is ready to buy but wants reassurance that they're making the right decision. They may also have narrowed options down to two or three, and want a reason to choose one over the other.
Content for the decision stage typically goes into pricing and value, but may also include:
Proposals
Case studies
In-depth reviews
Testimonials
Demo
Free trial
---
5. Create a Content Publishing Calendar
When first implementing your SEO content marketing plan, start with a manageable schedule. Many companies start by publishing one search-optimized blog post each week and then help drive web traffic by sharing a link to the content on social media and inemail marketingnewsletters. Others publish multiple pieces of content each week, and some sites even publish several articles every day.
You can create your first content publishing calendar using a spreadsheet. It can be as simple as a few columns for a due or publish date, title, keywords, and target customer persona. To help you get started, here's a free sample content publishing calendar spreadsheet you can download and customize for your process.
Thank you for downloading!
Quick Tip:
Get multiple uses from the same content by turning a series of blog posts into an ebook and creating several social posts from one article.
No time to create? Get low-cost SEO content writing services fromFiverrfor blog content, ebooks, social media, and more.
Visit Fiverr
For more tools and features than spreadsheets can provide, Monday.com is a great option and it has a free forever plan you can start with. With more than 200 templates and multiple view options, you can easily create a process to manage all your SEO content marketing plan from beginning to end. Start with theMonday.com content calendar templateand see how easy it is to use in the video clip below.
6. Publish & Distribute Your Content
现在你的计划,把你的SEO孔蒂nt marketing plan into action and start publishing and distributing content. There are three basic content distribution types: owned, earned, and paid. You can control some aspects of how your content is distributed, but not all. For example, placement and promotion for owned and paid types of distribution are up to you, but you can only influence earned content distribution.
Owned Content
Owned content exists on your website, social media pages, email marketing newsletters, and so on. These are usually blog posts, pages you create that explain services or products, and posts you create forsocial media marketing. In addition to attracting inbound traffic, owned content extends to outbound methods you use, such as sending links to recently published content to your email subscribers.
For more guidance and a free template, read our guide on how to put together asocial media plan.
Earned Content
Earned content can be a customer review, but is also "earned" any time your content is shared by someone outside of your company. You can also benefit from reviews people leave on your website regarding your products or services as well as feedback on sites like Amazon, Yelp, Facebook, and other review sites.
Reviews on your Google Business Profile (formerly known as Google My Business) are also considered earned content. These reviewsboost your local SEOefforts for online search placement overall as well as your ability to rank in the Map Pack of top local businesses displayed. You can use the local marketing platform BrightLocal to improve your website's search visibility as well as monitor and respond to reviews about your company.
Paid Content
Paid content is when you drive web traffic back to your content through paid means. For example, you can create Google Ads in the form of text or retargeting display ads,social media ads, banner ads on various networks or digital publications, or get sponsored content created by an influencer toincrease your brand awareness, traffic to your site, or sales.
If you aren't reaching the goals you set, paid promotion may be the key to achieving them. Addingsearch engine marketing (SEM) tacticslike pay-per-click (PPC) advertising and social media advertising to your organic inbound content marketing strategy can help significantly with awareness and conversion in a short period of time.
7. Measure Results & Refine Your Strategy
Progress in terms of the goals you set for your overall inbound content marketing strategy should be measured regularly. In addition, you can measure the success of each piece of content, such as Google rankings, views, conversions to leads and sales, web forms submitted, and so on.
Some of the basic tools you will need to measure results are free to use: Google Analytics and the Google Search Console. Google Analytics offers insights about site visitors' demographics, conversions such as web form submissions, and much more. Google Search Console allows you to track where your site ranks for each of your target keywords and measure your content's search click-through rate (CTR).
The Semrush platform offers more options for measuring your progress based on your content marketing goals. For example, you can set up projects in Semrush to track your website's rankings in search, identify site issues that can hurt your content (like broken links), see which websites are linking back to your content (creating backlinks), and more. For more details, see howSEO audit toolscan conduct a much deeper analysis of your website's performance.
In the beginning stages, you might decide to measure results quarterly or monthly. If you produce a significant amount of content, you might even be monitoring results daily. If you don't think your content is getting enough exposure, use a combination of provenwebsite marketing strategies.
As you measure the success of your content marketing, you will also find opportunities to go back and improve existing content and ways to refine the type and quality of content you produce in the future. Once you find the right combination of tools and resources, you should see content ranking higher on search engines and more clicks to your site.
Statistics About Content Marketing for Small Businesses
Content marketing is a proven long-term strategy for attracting and increasing organic web traffic. For this reason, it's valuable for any business wanting to generate leads or sell online and brick-and-mortar businesses that need to be discoverable by potential customers. It's also essential for building your small business brand presence and gaining authority as a thought leader in your industry or locale.
Frequently Asked Questions (FAQs)
What is a content marketing campaign?
A content marketing campaign refers to a set of pieces designed for a specific purpose, such as when a new product or service is rolled out. A content marketing campaign could include creating a variety of content types, such as a product landing page, e-book or whitepaper, and how-to-use video, and then supporting the rollout with paid ads, emails to customers and prospects, andsocial media marketing.
Is email marketing a type of content marketing?
Email marketingis different from content marketing, but it can be used to promote content you create for lead nurturing, sales, repeat business, SEO, and customer retention goals. For example, you can use newsletters or email campaigns to share testimonials or case studies to try to convert leads. You can also use email to increase the amount of traffic to your website, which in turn can help your site rank higher in Google search results.
What is SEO in content marketing?
SEO and content marketing work hand in hand to attract visitors to your website by optimizing your content to rank higher in online search. In turn, higher rankings lead to more web traffic from your target audience, resulting in more leads and sales. SEO and content marketing are one aspect ofsearch engine marketing, but there are more.
For example, you canbuild SEO backlinksto improve your site's authority with Google.Online business listingsare also important for search engine optimization (SEO), which helps you rank on Google and other search engines. Andlocal SEOis particularly important for brick-and-mortar businesses or service-based businesses that cater to a specific area.
Bottom Line
Content marketing is essential if you want to drive organic traffic to your website through online searches, email marketing, and social media. It supports every phase of the buying cycle, from building awareness and trust to nurturing leads and closing deals. Do due diligence by researching what your competitors are doing and finding keywords with search value that are relevant for your business to start creating your content marketing strategy.
Semrush is by far one of thebest tools for keyword research, competitor benchmarketing, and finding ways to rank higher on Google. You can test some of its features for free to get an idea of all the ways it can support content marketing for small businesses. However, we recommend that you request a demo to have an expert can walk you through all the ways you can use Semrush to grow your online brand presence and your business.
You Might Also Like…